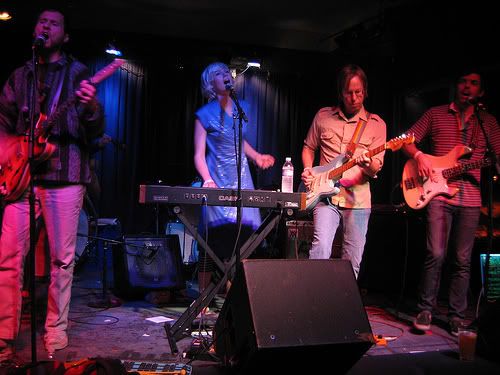 Part of the point of this blog was to keep me actively trying to get my butt to go to shows. For the most part of 2007 it worked. I was pretty into it and believe it or not, there were even shows that I went to that I didn't have time to write a review for, *gasp*. Except for the end of this year. That, embarrassingly, came to almost a grinding halt due to too many hats, exhaustion, and burning out among other things. I'm starting to pick the pace back up, and by that I mean I've been to one show this month- and it being now the half way point of the month.

But that's enough moaning for now. You've landed here to have me shove my opinion of the top live shows that I've seen in 2007. God, what an egomaniac I must be...

Frog Eyes @ Spaceland- There should have been a bigger crowd for these guys.
Andre Williams @ Safari Sam's- This performance proved that a man even closer to death than Hugh Hefner can still woo the ladies with sexy talk.
The Ettes @ Spaceland & the Scene- What a show those 3 put on. Single handedly restored my faith in the Garage scene in LA.
Anavan @ the Scene- Clothes came off and there was a dragon... seriously, how can you top that?
Matt and Kim @ the Echo- Everyone playing that night was excellent. Even though it felt like a sauna in there you couldn't help but dance and sing along to that charismatic duo.
Oh No! Oh My! @ the Echo- So many keyboards.
Bodies of Water- To list all the venues that I've seen these kids at would just take up too much space. They are hands down, one of my favorite acts to catch here in LA and if you haven't seen them yet I should smeck you. *smecksmecksmeck*
The Monolators @ the Scene and Pehrspace- The Pehrspace show is one of the "unlisted" shows from this past December. I DJ-d that night for No-Fi "Magazine" so I thought maybe some kind of conflict of interests should keep me from writing about it...who am I kidding, I got lazy and forgot to write. Regardless, the Monolators are another local fav of mine. Their energy is crazy and it's always tempting to sing along with them.
Jay Reatard @ the Scene and the Echoplex- Chaotic. That's all I can think to sum up his shows. Maybe also 'spit'.
Old Time Relijun@ the Echo- This tops my favorite shows of all shows for 2007. Screaming along to 'Cold Water' while only about 25 people showing up to see this band. And for the handful of us there, they put on a spectacular show.

K, I promise you all another review soon for Everest. No really, soon.