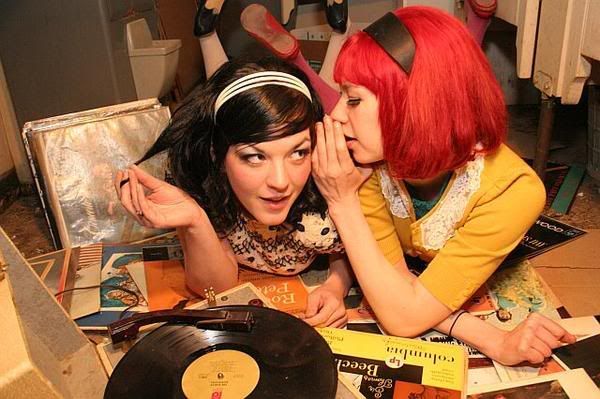 May is looking to be the busiest show going month in a long time for me. Unexpectedly, as if possibly by fate even, I was able to fit in another show this week. It started in the a.m. on my occasional commute from the east side to the west side for work. Stuck in traffic on the 10 I decided NPR wasn't cutting it and switched it over to KXLU cause I had only just remembered that it was Thursday, and on Thursday from 6 to 10 is McCallister's Hostile Makeover. An incredibly awesome radio music show that happened to be the first place several years ago that I was introduced to bands like Irving and the Sharp Ease (r.i.p.). Anyhoo- I switched over and this cute song was playing, and there was this girl's voice belting out "Don't touch me..." among other lyrics and it instantly got stuck in my head. Scenario two: leaving work KXLU was still on (this is actually a rare occurrence that the radio is on instead of a cd playing) and again I recognized the lyrics that I had heard much earlier in the day however this time they were live, in the studio. All this time I kept missing the name of the band, but I did hear "Silver Lake Lounge" and "tonight", which piqued my interest.

Fast forward a few hours and I found myself at the Silver Lake Lounge, finally able to place the "Salvation" bulb sign that I've seen in local live concert photos- I've never been here before.

When we got there, local band Hearts of Palm UK were on stage. I've seen this band name posted all over the place, I'm assuming they're quite popular around these parts but this was the first time I've ever seen them live. They're a duo- two girls with lots of instruments. My notes from last night read "light-folky girl pop, with keyboards". This review can't really do them justice, partially because I got caught up in a conversation and my attention wandered elsewhere, until they closed their set with, I'm pretty sure, a cover of Bryan Ferry's 'More Than This'. That's always entertaining.

So this band that I kept hearing all day... they're called Agent Ribbons, and hail from Sacramento. They were adorable, but they also looked like if you tried to mess with them they'd fuck you up. The line up consisted of two gals, one sang and played guitar and the other played the drums and at one point jumped on an accordion (which somehow became the cool new instrument. I should tell my sister, she played one for years). The music was bluesy-garage-girl pop, and the singers voice reminded me of the girl from Pony Up! and someone else that I can't remember for the life of me and has been driving me crazy since last night; very crackly and deep. There was something very crafty about the two of them; one might expect them to live in a giant pink Victorian house somewhere with a pet pig. When they played they would look back on each other and smile or giggle, like they had some secret they were trying to keep from the audience.

Anyways, they were enjoyable to watch and played the songs I had heard earlier (Don't Touch Me, Birds & Bees) as well as others from the album and some not from the album. It turned out I was the only one in the audience who had heard them perform on KXLU. But really, that station is iffy once you get on the east side. Oh, and if you order an album from them, they'll send you cute things in the mail with it. So do it.